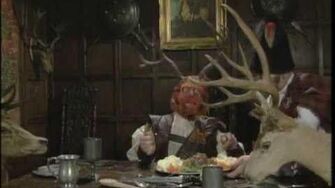 Bonnie Scotland is a song parodying Scotland and the song Mull of Kintyre and references the Jacobite Rebellion. It comments largely on the fast-food culture of Scotland, and how popular it became (and remains) there.
The song is sung by a ginger bearded Scotsman in traditional dress, the puppet of which appeared as numerous other side characters in various sketches.
It's a foreign mist a' swirlin' o'er this distant land ah roam,
But it takes me again to the misty glen, and to Scotland, my bonnie home... 
Where the bluebells sweep the hillside, and the school bells on the valley, 
And I think as I stand in this distant land; I couldn't half murder a curry!
So beat the drums slowly, but faster than that, 
No slower... No faster... No slower ya twat! 
And I'll tell ya the memory that fair makes me greet,
It's the tandoori take-out on Decatholic Street. (?)
The Macgregor's have slain the Camborne's, 
And the Stuart's have murdered the Grant's, 
But tonight I be killin' a curry, God willin',
And throwing it up all over the mats!
Ah hear the popadoms comin', 
And the song of tandoori king prawn, 
And contented I feed, but for Billy and me, (?)
And a bottom that burns in the morn! Oh!
(???) and wish to ya mints, (?)
I ordered a leopard… That doesn't make sense… 
Ah hate bloody Scotland and all that comes from it, 
Well except for the curry, the fights and the vomit!
Community content is available under
CC-BY-SA
unless otherwise noted.