Born To Teach Woodwork is a 1985 parody of Bruce Springsteen's "Born In The USA", and was transmitted at the height of Springsteen's massive fame in the UK - he came to England on tour mere months after this episode aired. The puppet is both worked and voiced by Anthony Asbury, and the lyrics were most likely written by Grant and Naylor.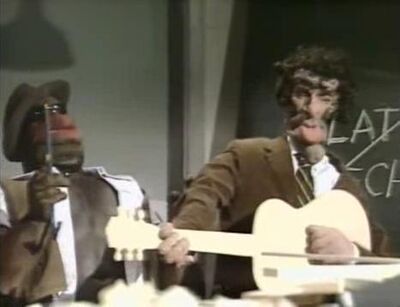 My mother always told me, "Son take the easy life"
Get a good job in the city, get a mortgage, get a wife
But the rebel in me wouldn't let me settle for second best
And that's why from that day on... I've never worn a vest

I wasn't born to read Plato or Neacher
I was born to be a... Woodwork Teacher
I was born to teach woodwork, born to smell of linseed
Born to teach woodwork... all of my life

I was born with a 4B pencil wedged behind my ear
Making stools and tent-pegs, with the first and second year
The teachers in the staff room, well they all look down on me
But at least I'm six times smarter than the guy... who takes P.E.

Workin' nine to five ain't no good for me
I was born to work from nine to half past three
I was born to to teach woodwork, born to drive a Renault
Born to have nicknames... all of my life

I wasn't born to make pastry or quiche
Cookery? Ha!
Well I'm a woodwork teacher... hargh!

(saxophone solo)

I was born to teach woodwork, born to wear a cordoroy
Born to be laughed at... 'til I die...
HUH!
Community content is available under
CC-BY-SA
unless otherwise noted.