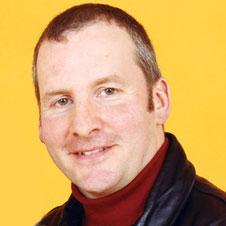 Chris Barrie (b. March 28, 1960 in Hannover, Lower Saxony, West Germany) was a voice impressionist on Spitting Image from 1984 to 1991. He was also a puppeteer for the first two series (seasons).
However he is more widely recognised for his role in Red Dwarf as Arnold Rimmer (and a parallel dimension version of him known as Ace Rimmer)
Characters
Edit
This list is incomplete.
Sir Sean Connery
James Anderton
Jeffery Archer
Simon Bates
Richie Benaud
Kenneth Branagh
Gordon Brown
George H.W. Bush
James Calleghan
John Cleese
John Cole
David Coleman
Henry Cooper
Ronnie Corbett
Paul Daniels
Robin Day
Christopher Dean
Michael Foot
Norman Fowler
Sir John Gielgud
Gary Glitter
Russell Harty
Michael Heseltine
Simon Hughes
Michael Palin
Nigel Lawson
Magnús Magnússon
Harold McMillan
Barry Norman
David Owen
John Peel
Prince Andrew
Mike Read
Maurice Saatchi
Jimmy Savile
Norman Tebbit
Brian Walden
Kenneth Williams
External links
Edit
Community content is available under
CC-BY-SA
unless otherwise noted.