Clint Eastwood (1930) is a American actor and film director, world famous for his roles as tough cowboy in "A Fistful of Dollars", "For A Few Dollars More" and "The Good, The Bad & The Ugly" and uncompromising police man in "Dirty Harry". In 1986 he was briefly elected major of the village
Carmel.
Portrayal in Spitting Image
Edit
Eastwood was often used to spoof his reputation as rough, cool character. In The Man With No Title he saves the day by killing the "evil" Margaret Thatcher. In the song We All Hate Jeremy Beadle he throws a can of gasoline over Beadle's body and then lights a match. Beadle ducks away, but it turns out that Eastwood simply wanted to light a cigar.
His voice was imitated by Enn Reitel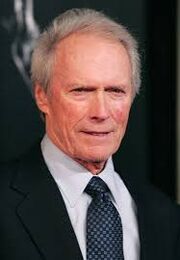 Community content is available under
CC-BY-SA
unless otherwise noted.