Cricket Song is a Spitting Image song parodying the 1990 "rebel tour" of the England Cricket team in South Africa.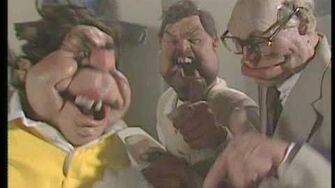 I'm heading for South Africa,
I'm off to catch my flight,
I left behind my conscience,
And now I'm travelling light,
People like to hate us,
They say we're not too bright,
But now we've just defeated,
We've ended up alright. Alright!
We're breaking down Apartheid,
We're going to help the blacks,
We're doing it for freedom,
And eighty grand less tax,
We don't know much about it,
But one thing is for sure,
It gives us all a great excuse to miss the West Indies Tour!
We're welcome in South Africa,
They like our macho-state,
And I'm allowed to drink with him,
'Cause this is only mud,
The alcohol allows us,
Our British lying spud,
It makes us drop our trousers,
And fancy Zola Budd,
We're breaking down Apartheid,
With all our famous friends,
For the Commonwealth of Country,
We've buggered up the games,
Now every British sportsman,
Can earn a hefty fee,
Unless your game is tennis,
You're not worth 50p!
(Cricket Commenter)
What a marvelous delivery,
10,000 Rands to Gatting,
He doesn't know much about Apartheid,
And he doesn't know much about betting.
(F.W De Klerk)
Welcome to South Africa,
Feel free to look about,
If you've any questions,
Then just give us a shout.
(South African police officer)
A lot of blacks play cricket,
Of that there is no doubt,
("Pik" Botha)
Mandela's at the wicket,
He's twenty six not out.
(All)
We're breaking down Apartheid,
We're all the best of friends,
So come and join the party,
We hope it never ends.
(De Klerk and "Pik" Botha)
We've just been re elected,
So thanks for your support,
(All)
And here's to what we always say,
Keep politics out of sport!
Community content is available under
CC-BY-SA
unless otherwise noted.