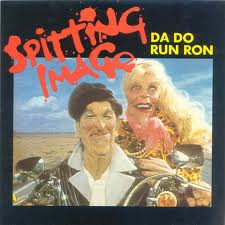 Da Do Run Ron is a parody of Da Doo Ron Ron, originally sung by The Crystals. The lead vocals are sung by Nancy Reagan, wife of President Ronald Reagan, as well as a chorus of various characters. 
BackgroundEdit
The first single from Spitting Image, released in 1984, was a rework of the Crystals' "Da Doo Ron Ron". The Spitting Image version, "Da Do Run Ron", was a spoof election campaign song for Ronald Reagan, featuring Nancy Reagan listing reasons why "you gotta re-elect him", The cover of the single featured Reagan as a biker with Nancy riding pillion. The puppets of Ant and dec sings two wet gits and now on top of the pops along with the chicken song and da do run Ron.
(Ronald Reagan) 
My fellow Americans, people of the world, I give you… Nancy!
(Nancy Reagan and Chorus) 
His name is Ronald Reagan and he's quite a guy! 
[Da do run run Ron, da do run Ron!]  
You gotta re-elect him and we'll tell ya why!  
[Da do run run Ron, da do run Ron!]
[Yeah!] 
He can really act! 
[Yeah!] 
He's lowered Income Tax! 
[Yeah!] 
He hates the Warsaw Pact! 
[Da do run run Ron, da do run Ron!]
No one can accuse him of being over the hill! 
[Da do run run Ron, da do run Ron!] 
But when he went out jogging his heart stood still! 
[Da don't run run Ron, da don't run Ron!]
[Yeah!] 
He's wild and free! 
[Yeah!] 
He's seventy-three! 
[Yeah!] 
He's just run into a tree! 
[Da do run run Ron, da do run Ron!]
[Oooooh! Da do run run Ron, da do run Ron!]
He went into Grenada with his head held high! 
[Da do run run Ron, da do run Ron!] 
The only trouble is he can't remember why! 
[Da do run run Ron, da do run Ron!]
(Gary Hart and Chorus) 
[Yeah!] He ought-a stay in bed! [Yeah!]  
He's so nearly dead!  
[Yeah!]
(Ronald Reagan and Soviet Chorus) 
Yeah, but better dead than Red!  
[Da da run run Ron, da da run Ron!]  
[Da da run run Ron, da da run Ron!] 
[Da da!]