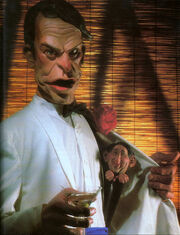 David Owen (b. July 1938) is a British politician and founder of the liberal "Social Democratic Party".
He was lampooned regularly on the show as a arrogant, self important man who lost every election. There was a suggestion on the show he simply wanted to be in power and jumped on the bandwagon of whatever group was winning at that point. He was often depicted moving between parties in the commons, sitting on the Labour, Liberal/SDP and Conservative benches in every shot. In later series he could be seen sitting on Thatcher's cabinet avidly answering her questions and receiving her praise. David Steel , the leader of the Liberal Party with whom Owen's SDP eventually merged, was usually depicted as his adoring little sidekick. Steel confronted him on his Conservative leanings, only to be rebuffed by a Thatcher accented and wig wearing Owen.
His voice actor was Chris Barrie.
In real life Owen is a passionate anti-smoker, and so was depicted consistently in the show smoking - often with an elaborate cigarette holder to emphasise the point.
The real Owen and Steel often blamed "Spitting Image" for people not taking them seriously as politicians during the 80s.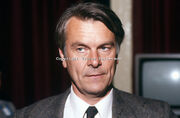 Community content is available under
CC-BY-SA
unless otherwise noted.