Edwina Currie (b. 1946) is a British politician of the Conservative Party who was Minister of Health from 1986 until 1988.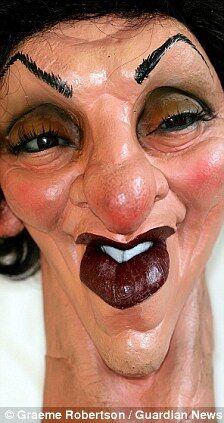 Portrayal on "Spitting Image"
[
]
Currie was portrayed as an evil vampiric witch and dressed in Dracula-type clothing. She didn't care about the health of British citizens, unless elections were near. Spooky music and thunder clashes often accompanied her when she spoke and scared those who surrounded her, and she was often lit from underneath, as to add to the sinister theme.
She along with Norman Tebbit and Roy Hattersley was one of the lesser known politicians who actually became more popular thanks to her appearance in "Spitting Image".