Hello, You Must Be Going is a 1986 song parodying Phil Collins. The song sounds similar to the Phil Collins singles "Against All Odds" and "One More Night". It was written by Ian Hislop and Nick Newman and its title is a parody of one of Phil's album names. It was released on the B-side of the Chicken Song LP, and also on the "Spit In Your Ear" record.
The song has a notable backstory. Phil Collins reportedly watched the song video and was quite disgusted; he even planned to sue Spitting Image for it. However, after watching the video a few more times, he felt bad and told Spitting Image he was calling the lawsuit off. Later in the year, he made everything even by asking Spitting Image if they could make a music video for one of his songs - the memorable video for the Genesis song "Land of Confusion". He even asked if they could make his puppet 'uglier'.
Cast (in order of appearance):
Phil Collins's ex-wife
Phil Collins's ex-girlfriend
Places:
Non-descript blue background
Phil Collins's house
Phil Collins's car
Running Time: 2:42
First Appearance:
Lyrics
[
]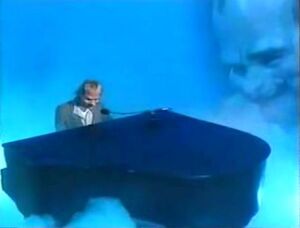 As you told me you were leaving
I didn't ask what I did wrong
But there's no time to question why
I've got an idea for a song
I'm so lonely, life's not fair
I've lost my wife, I've lost my hair
As you packed your toothbrush in your bag
At once my spine began to tingle
As you shoved the doorkeys up my nose
I thought "here comes another single"
I'm so lonely, fame is just a myth
I've lost my wife, and I look like Mel Smith
As you poured the petrol on my drums
I knew that things were getting worse
As you struck the match and threw it on
I thought "that'll make another verse"
(drum solo)
I'm so lonely, I feel so boxed in
I've lost my wife, and I look like Bob Hoskins
Now there's a new lady in my life
My days of misery are gone
Hang on, she's heading for the door
I feel a song is coming on
I'm so so lonely, goodbye, farewell, ta-ta
She took my heart, 'cuz I look like Eddie Shah
So lonely...