Jeffrey Archer (1940) is a British author, playwright and Conservative Party politician.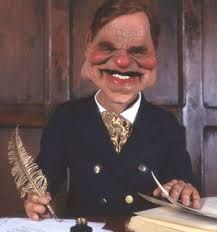 Portrayal on "Spitting Image"
[
]
Archer was frequently lampooned on the show as a vile, self-important, arrogant man who always tried to impress his environment with his upper class roots. He often spoke in literary terms, starting a sentence and then adding "said the succesful author/politician/...".
he was also shown to be a serial liar who would constantly lie or exaggerate the truth about his life/success

at one point in the show, he was shown having sex with a goat, after one of his assistances said "cork the goat" as another way to tell him to stop talking