Konstantin Chernenko (1911-1985) was Head of State of the Soviet Union from 1984 to 1985. He was later replaced and succeeded by Mikhail Gorbachev.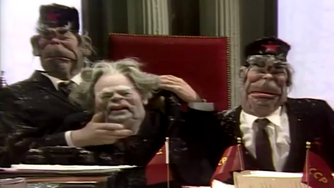 Portrayal on "Spitting Image"
Chernenko was featured as he appeared in the media at the time: sick and already with one foot in the grave. In one memorable sketch other Soviet Party members go the refrigerator in the Kremlin to fetch a cold drink. Inside, Chernenko is kept between all the other deep freeze products. After only a year the real Chernenko died. Spitting Image poked fun at this by making a change in the opening titles of their show. Instead of showing archive footage of Chernenko in the Russian parliament, they showed a hand holding a newspaper clipping about Chernenko's death, covering the footage.