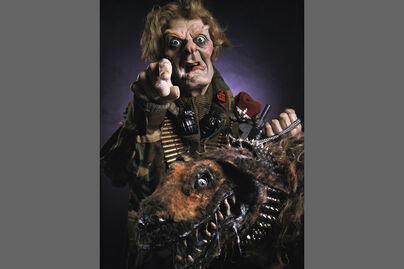 Michael Heseltine (1933) is a British businessman and politician. He was Minister of Defense under the Margaret Thatcher administration from 1983 to 1986. In 1986 he was forced to resign because of his involvement in the Westland Affair.
The struggling Westland company, the last British helicopter manufacturer, was to be a subject of a rescue bid. Heseltine favoured a European solution, integrating Westland and British Aerospace with Italian (Agusta) and French companies. Because his solution was ignored he resigned.
Due to how big of a role he played in the 80s and challenging Margaret Thatcher's position as Tory leader, he was one of the longest recurring puppets throughout Spitting Image's lifespan.
Portrayal on the show
[
]
Heseltine was caricatured as a paranoid and aggressive man. Sometimes dressed in camouflage uniform and shown to sleep on a bed surrounded by barbed wire. It was rare for Heseltine to not scream at someone during one of his sketches. Heseltine's puppet was gradually updated throughout the series to feature darker circles around his eyes, messier hair and more and more wrinkles. A recurring joke in Series 2 is that Heseltine would sometimes be hiding under a desk or inside a birdcage and aiming a revolver while he was having casual discussion with his cabinet or Thatcher about various occurrences or issues.
In the earlier seasons, Heseltine was sometimes portrayed as being the most competent member of his cabinet, such as when he broke into an outburst about how holding onto nuclear weapons was ultimately pointless and just bred conflict. He would also often point out the incompetence of Nigel Lawson by directly insulting him.
During the fall of Margaret Thatcher, Heseltine shtick changed to his desperation to becoming Prime Minister. Heseltine donned the title of Blond Man, the brave hero fighting for the honorable goal of Tory leadership . He would often shown with a blue ribbon that said "Vote for Me" on it and would make absurd promises in order to win the appeal of voters. After Major ultimately won, Heseltine was figuratively and literally pushed aside in the remainder of the show, and would constantly bring up how "very happy" he was the John Major had won and not him.
The real Heseltine was very fond of his portrayal on the show and it amused him and his family. Heseltine at one point wanted to buy his puppet when puppets were going up for auction.