Neil Kinnock
(b. 1942) was a Welsh Labour politican who was Head of the Opposition from 1983 to 1992.
Portrayal on the show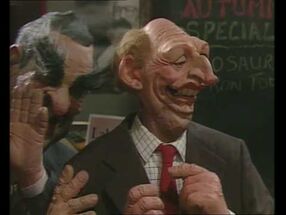 On Spitting Image and in Private Eye magazine, Neil Kinnock was referred to as "The Welsh Windbag." He talked for hours about anything but his policies and seemed desperate to win the election. One early sketch features his cabinet breaking in Number 10 Downing Street.
He was often seen with partner-in-crime Roy Hattersley.