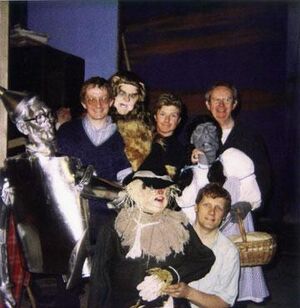 Simon Buckley (b. 1965, England) is a British puppeteer. He has worked on seasons 2 and 3 of The Spooks of Bottle Bay (a production of "Playhouse Puppets," a company co-created by fellow Spitting Image puppeteer John Thirtle) with fellow SI puppeteers John Thirtle, Francis Wright, Richard Coombs, Sue Dacre, Philip Eason, Steve Nallon, Nigel Plaskitt, and Louise Gold, as well as numerous productions for Jim Henson and his Muppets and Jim Henson's Creature Shop, with many of the aforementioned puppeteers and other SI colleagues. He is also known as the puppeteer for Nobby the Sheep, CiTV presenter.
He was a main puppeteer for SI from 1986 to 1990 as a puppeteer and from 1992 to the series' end in 1996 as a principal puppeteer. Among the many characters he puppeteered include Queen Elizabeth II, Tony Blair, and Frank Bruno.
External links
Edit
Community content is available under
CC-BY-SA
unless otherwise noted.