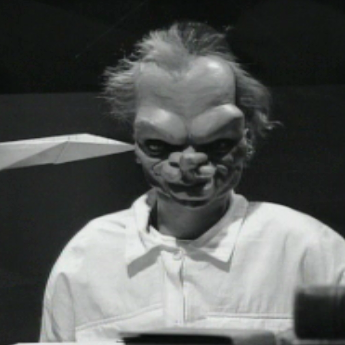 Sting (real name Gordon Sumner, b. October 2, 1951 in Wallsend, England) is a pop singer who started off as part of the New Wave/reggae band The Police.
Personality on the show
[
]
In the show, Sting was presented as something of a self-important hippie. His puppet always tried to preserve the environment and frequently attacked the world leaders and their policies. His self-importantness was sent up in a few sketches: In one, he attempts to become the first man to land on Jupiter under the impression being a pop star entitles him to do anything no matter how improbable. In the song "Lessons", he is shown as a teacher - as he was one in real life before becoming a singer - lecturing the world leaders on world peace (even though he slowly drifts into completely irrelevant and random topics).
Sting is one of a handful of celebrities to have been directly involved with Spitting Image before the show began parodying him. He was asked towards the end of the first series to sing a specially rewritten version of the Police song "Every Breath You Take" entitled "Every Bomb You Make". Sting agreed to sing it in exchange for copies of every episode of the first series. He is also a celebrity who eventually turned around and helped the show after being parodied - he provides the narration for a Spitting Image production of Peter & The Wolf.