We were only obeying orders
Edit
"We were only obeying orders" was a song from series 11 of spitting image, about John Major's time in Margaret Thatcher's government.
(Chris Patten)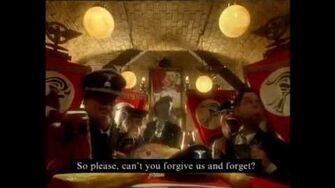 We're so sorry if the poll tax,
has been causing you distress in any way
(Norman Lamont)
We're so sorry is you're not working
Can't you look on it as unpaid holiday?
(Kenneth Baker)
God we're sorry you're all unhappy
Every single move we ever made was wrong
(Kenneth Clarke)
Though that awful era lingers
All the time we crossed our fingers
'Cause we knew that it was wicked all along
(All)
'Cause ve vere only obeying orders
And the one who made us do it all was "she"
Yes ve vere only obeying orders
Or she'd send us straight to bed without our tea
Ve vere only obeying orders
And we obeyed each order to the full
But at least we didn't go and
Decide to march on Poland
Ve vere just obeying orders- Jawohl!
(John Major)
She loathed the unions and though we loved them,
She insisted we exterminate the lot
She made us sell off the family heirlooms
And squander every penny that we'd got
We made you homeless but under protest
But we promise you it won't occur again
Though a few chose to be martyrs
She soon had there guts for garters
(Geoffrey Howe)
And their balls nailed to the door of number 10
(All)
Ve vere only obeying orders
And when we did these dreadful things we cried
Ve vere only obeying orders
But deep down we were always on your side
Ve vere only obeying orders
And we had to watch our goosestep you can bet
But we're smashing fellows really
We adore you people dearly
So please can't you forgive us and forget?
The heads stuck on the fence of nunber 10 belong to Nicholas Ridley (resigned due to comments comparing the EMU to Nazi Germany), Leon Brittan (resigned due to leaking a letter about Heseltine during the Westland Affair) and Nigel Lawson (resigned due to differences in financial opinion between him and Alan Walters)
Community content is available under
CC-BY-SA
unless otherwise noted.